1920s – Local speed skaters in KW, small number with interest in the sport
1963 – Notice placed in the KW Record by the KW Sertoma Service Club. The Sertoma Club wished to sponsor a worthwhile sports project. Ontario Amateur Speed Skating Association president Joe Huibers of St. Catharines, Ontario, with John Jurdis and Dennis Laverty, executive members of the Association, took the notice and persuaded the Sertoma Club to host the 1963 Canadian Outdoor Championships in the KW area. Lacking a competitive club, the group still held a very successful 1963 Outdoor event, and through appeals to local youth, they entered eight skaters in this meet. The meet was held on a six lap track put on Victoria Lake in downtown Kitchener.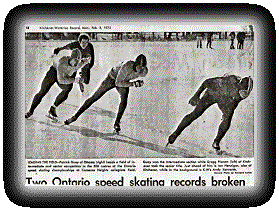 1964 – Following the championships, Joe Huibers influenced the Sertoma Club to form a speed skating club locally. The K-W Sertoma Speed Skating Club was formed. Seven skaters turned out to the original club meeting. Two Sertomans, Bill Plauntz and Jack Battler, took over positions as coach and treasurer of the club.
The original seven skaters were Bob Bryant, Marty Deutschlander, Ron Billings, Ebele Hanje, Hank Klayer, Greg Peterson and Gregg Planert.
The first female club competitors joined the club this year – Connie DeGroot, Rosemary Wiese, Kathy Hoch and Karen McLaughlin. Karen and her younger sister, Mary Ann, both won Canadian Championships as well as competing in provincial and U.S. competitions.
1970s – Planert, along with Joe Hanje (Ebele's brother) and Patti Hoch, skated in Europe as Canadian Association team members in the early 1970's. Joe and Patti became members of the Club. Planert later turned to coaching – two years in China and later with skaters in Calgary, Alberta.
Martin Deutschlander, a local skater, entered as a Junior, borrowing a pair of racing skates four days before the competitions. Martin won a third place medal in one final and placed fourth in another. An amazing accomplishment for someone who had never seen a racing skate a week earlier.
Ebele Hanje, another KW area skater, entered the Senior Men's class using a pair of Dutch wooden strap-on skates.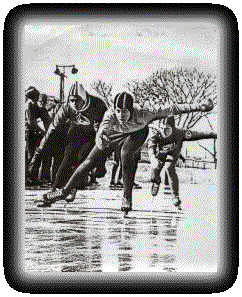 1967 – DeGroot, Wiese, Bryant and Klayer were on the Ontario Team at the original Winter Games in Quebec with Planert as chief timer of the event.
1968 – Greg Peterson won the Canadian Outdoor Championship Junior title in Saskatchewan. Bill Plauntz and Jack Battler retired and Bob Planert took over as coach, with Gerry Haack as secretary-treasurer. Planert had been an associate member of the skating club from the start, acting as an official and helping with transportation to various meets.
1969 – This season saw the arrival of additional coaches Jeff Crebolder and Tony Byyank, as well as the very welcome addition of Marcia Parson, former Olympic Team member from Alberta. Marcia, a school teacher, skated for the club and encouraged several of her students to join.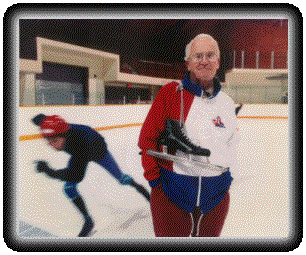 1971 to 1978 – the following members won or tied Canadian Short Track or Long Track titles: Marcia Backner Parson, Gerald Dickey, Patti Hoch and Ann McLaughlin. Patti Hock, Liz Ellenton, Darrell Haack and Ian Hennigar were on the Ontario Team at the 1975 Canada Games. Hoch, Terry Rektor, Bob Crebolder and Gerry Haack were local club members on the 1971 Ontario Canada Games team.
1980 – The club moved to the Conestoga College rink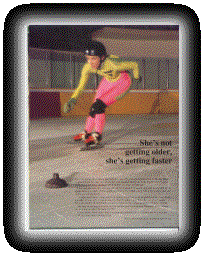 2001 – Waterloo's RIM Park complex was built and consideration was given to the club, as described in the City of Waterloo archives. The club has called RIM Park's Lion's Arena rink home since the facility opened. The complex provides our club with permanent and convenient ice-side storage for the large mats that are necessary for skater safety at practices and meets.
2014 – The KW Sertoma Speed Skating Club celebrates its 50th anniversary!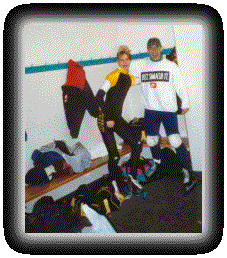 Ian Hennigar later became Executive Director for the Ontario Speed Skating Association, exiting in 2004. He passed away in 2016 after a long and successful career in youth sports and speed skating, being the first ever winner in 2015 of Speed Skate Canada's President's Commendation Award for outstanding contribution to the sport of speed skating for over 40 years.
Bob Crebolder was a head coach for the Saskatchewan Speed Skating Association.
Ebele Hanje passed away in 2014, but his children and grandchildren are still involved with our club.