Speed Skating Ontario (SSO) holds a number of short track speed skating competitions, also known as 'meets', throughout the season. Meets are either 1 or 2 days long, on a weekend. Skaters begin in the "Provincial Circuit" racing series before being invited to join the "Elite Circuit", based on age and race times from Provincial meets or "Time Trial" events. New to 2023, local clubs also host "Regional Circuit" meets for young and/or beginner skaters, which last only a few hours.
Participation in meets is entirely optional. Our club consists of both recreational and competitive skaters. Parents can have discussions with both their skater and the coaches to see whether or not this is something they may want to consider.
The yearly meet calendar can always be found on SSO's website
Download our guide for what to expect at a meet
KWSSSC also hosts a number of 'mini meets' for our club members only, including at the end of the Learn to Speed Skate Session.
Equipment
Club skin suits must be worn for Elite Circuit meets and can be rented from the club for each competition. Suits are not required for Provincial Circuit meets but they are recommended. A member of our equipment team will be happy to help you. Read our tip sheet on how to take care of your club skin suit before renting!
Other required equipment: helmet, goggles with strap, neck guard with chest protection, cut proof gloves, knee pads, shin guards, cut-proof ankle protectors. Some levels of competition require a cut-proof Dinema/Kevlar under-suit.
Remember that speed skates must be sharp for competition! Skaters often sharpen their skates before every race at the Elite Circuit level of competition.
Check with your coach beforehand to make sure all of your equipment meets SSO safety standards for competition!
Registration
Check the SSO website under Competitions tab for competition schedules, bulletins and registration forms. To register for a meet, the registration form and payment must be submitted to your coach by the posted deadline.
Long Track Competition
Some of our elite skaters travel out of province to compete on the 400m "long track" oval! We have long track "clap" skates available for rent if this interests you – talk to your coach!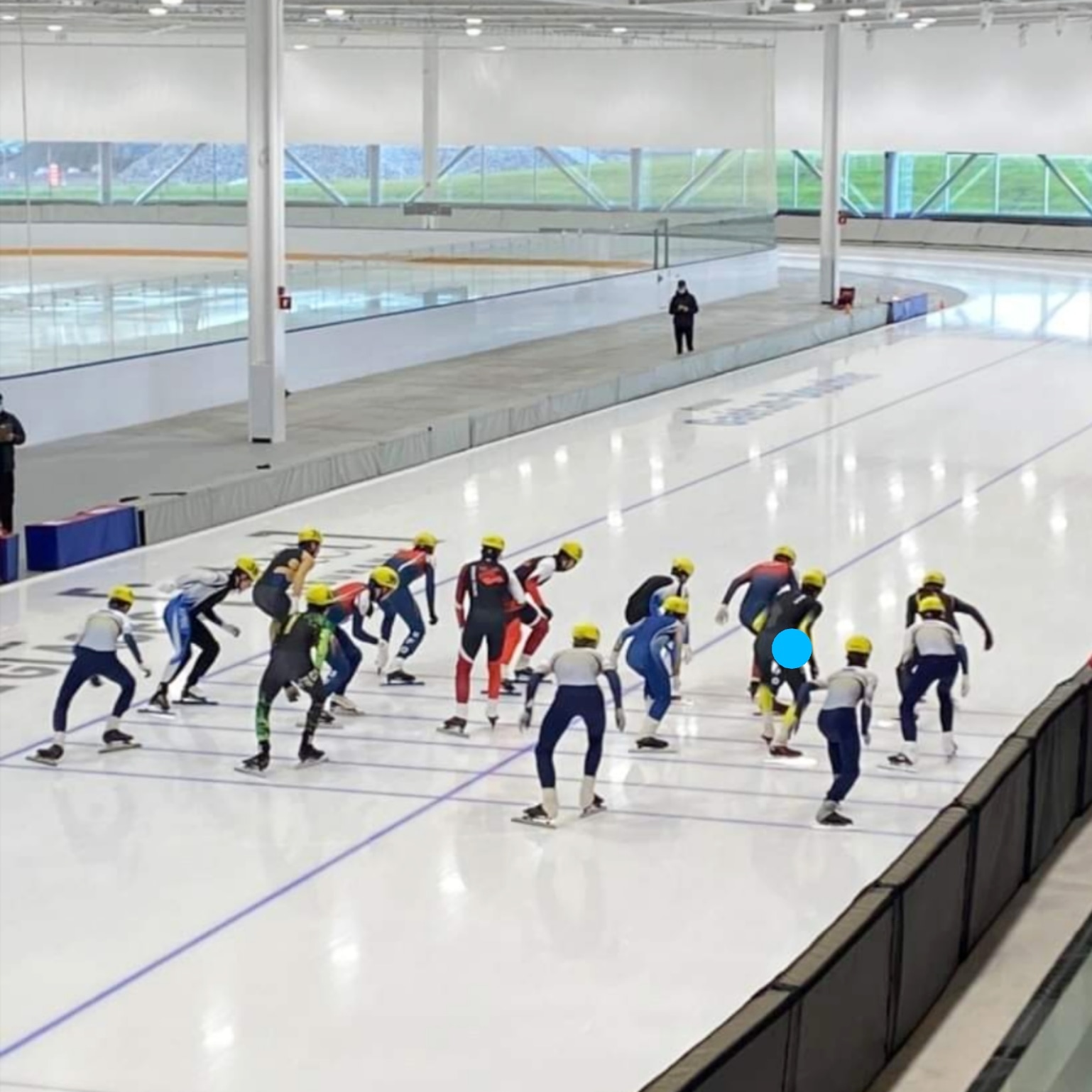 Marathons
Some skaters participate in long track marathon skating, at distances of 21km or 25km, and 42km or 50km, depending on the event. Often all in one weekend! These events are available for anybody to register, and are particularly popular with our Masters skaters.
Check out Skate the Lake Portland, Ontario for a chance to skate their 1km natural ice oval! This weekend is family friendly and offers a variety of distances, starting at 5km, and even a relay event.
Lake Placid, NY also hosts marathon skating on their outdoor Olympic oval.
Stay tuned for more marathon opportunities.